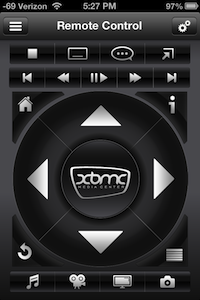 I've been interested in the Raspberry Pi ever since I first saw it mentioned in the tech news and finally got to play with it over the past few days when my brother (thanks Simon!) lent me an extra one he had. I've been in need of a better media center setup ever since my DisplayPort cable stopped working so I decided to try out Raspbmc, a Raspberry Pi based media center.
I scavenged an SD card from my camera and a microUSB AC adapter from my old Droid phone which I somehow still had lying around. With those two, I was able to install Raspbmc but couldn't get any farther without a wifi adapter. It took the wifi adapter a few days to get delivered but it worked right out of the box and I had a functional media center. Surprisingly, I didn't need a keyboard at all and was able to run through the entire setup using SSH and a downloadable iPhone app that acts as a remote. The most time-consuming part was setting up a Samba shared folder under Mountain Lion and adding it to Raspbmc using the onscreen UI.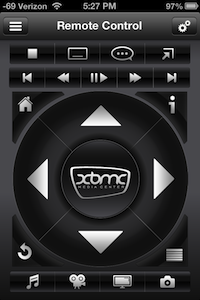 It works well. It solves my "must-have" problem of using my TV to play videos that are on my computer and also has a bunch of "nice-to-haves". The two big ones are AirPlay support which allows streaming of audio and video from iOS devices and the ability to use my iPhone as a remote. Only thing left is getting an enclosure so it's not just lying on the floor.
Here's the setup:
Raspberry Pi - $25 or $35 model
Wifi Adapter - $10 on Newegg
microUSB AC Adapter - I found one but should be around $5
SD Card - I had one but can find one for around $6 on Amazon
HDMI Cable - $2 and up on Monoprice